Hello,
I'm learning TeXmacs and want to do it the right way.
I would like to submit a cover-letter template on tm-forge and found nice inspiration from awesome-cv latex templates.
I've made a very rough document without defining any macro or style file expect the section I think. You can find the document here and a preview in the following screenshot.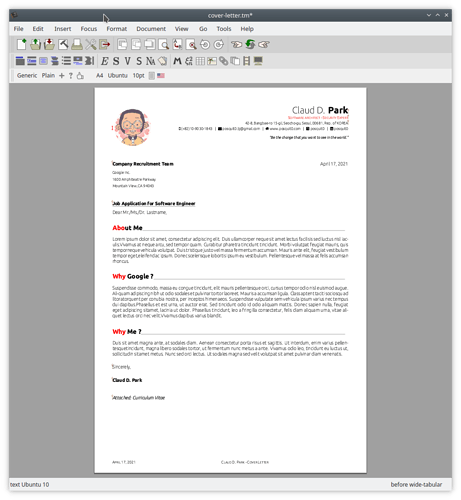 I'd like to learn how to make a style file which can define the position and formatting of elements like:
the sender fields: picture, sender's name, sender's job position/title, sender's address, sender's links, citation.

Just to show that I really know nothing in the footer the sender's name is not a macro substitution, but it's done "by hand". I'll like for example be able to define a macro with arguments to build the sender's links info line.

I think that this post and its progress could be a good case study for beginners like me.
Any pointers, help will be welcome.
Have a nice day.